| | |
| --- | --- |
| | |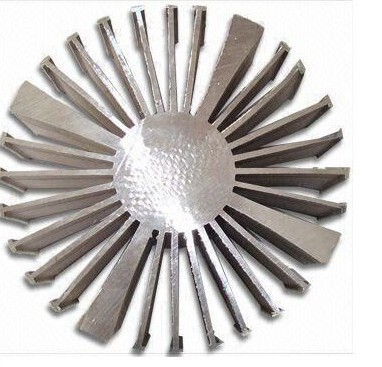 Product Description:
Specifications
extrusion parts
1) mould is strictly controlled
2) price is competitive and best service
3) precise manufacture
DIY Non-standard aluminum extrusion parts EP-041
1.Mould made according to customer's drawings, specifications and samples
2.Further machining work: Turning, cutting, milling, grinding, drilling, reaming and threading
3.Surface finish process: Polishing shot blasting, chromate plating, power coated and anodizing
4.OEM and ODM parts range: Auto, electronic, furniture parts, home appliance and other industrial uses
5.Processes: CAD service, metal processing, surface plating, QC testing and packing
6.Full inspection on all dimensions, characteristics and notes on drawing for each sample submitted
Advantages of Aluminium extrusion profile:
1. It has a thermal conductivity of 205W/mK, which is good (as a comparison: steel has about 50W/mK).
2. The production of aluminum heat sinks is inexpensive.
3. They can be made using extrusion.
4. Due to its softness, aluminum can also be milled quickly; die-casting and even cold forging are also possible.
5. Aluminum is also very light (thus, an aluminum heat sink will put less stress on its mounting when the unit is moved around).
Pre:Blow Molded Parts Next:Extrusion Parts